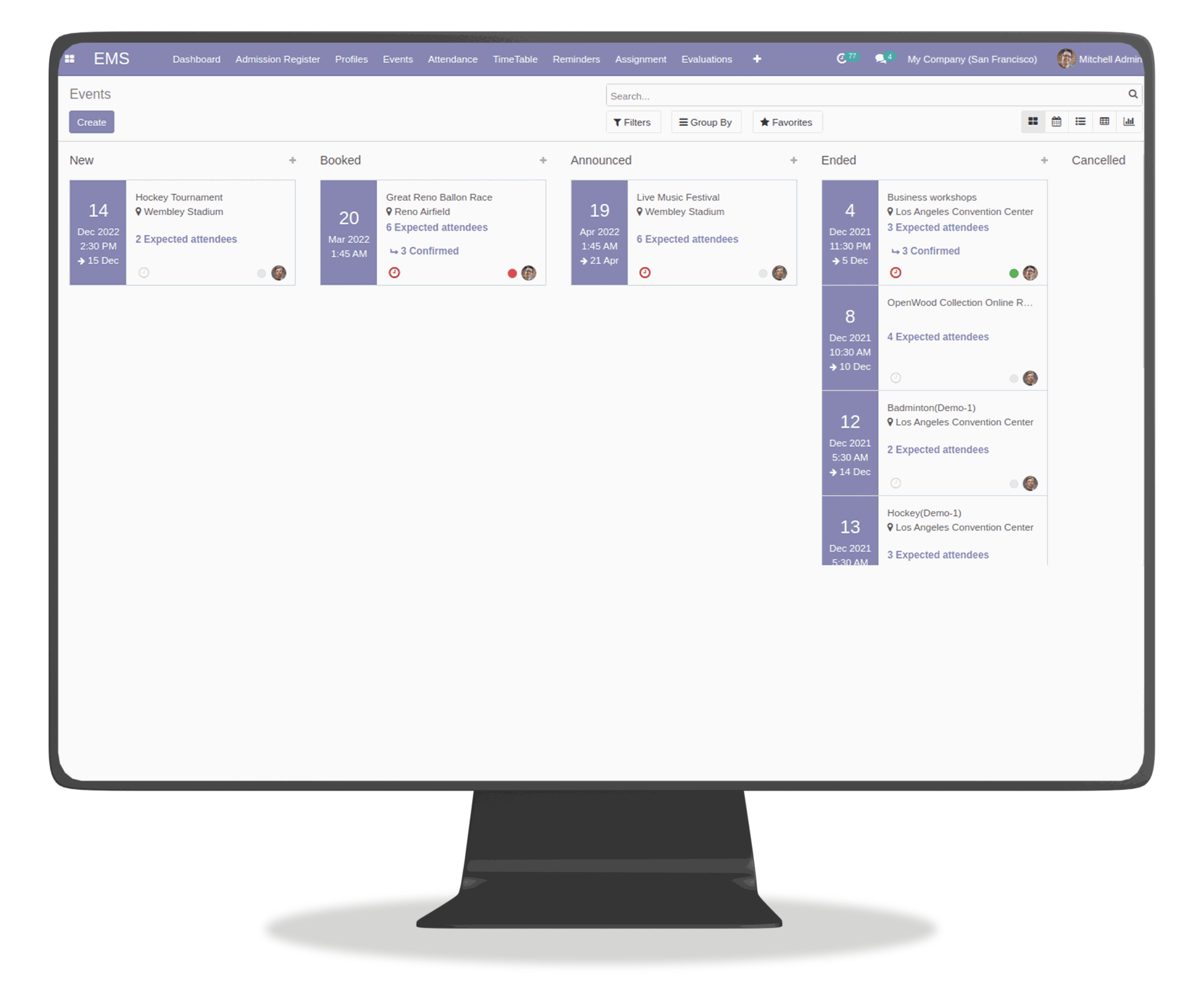 System Overview of EMS
Managing an educational institute is not easy without deploying a proper technology solution.




Automation and operational smartness are two of the key reasons why today's education institutes need such technology solutions. So it's less about size but more about the simplification of operations.




Being a School, College, University, or a small coaching centre, our Education Management Software is capable of managing almost every area of operations right from admissions to fees and profiles to course programs, Our Education ERP is fully functional with the extra benefit of tempting UI/UX.
Different Verticals of Educational Institutes
We have an Educational Institute Management System which has been developed to take care of various types of institutions. The same solution with little or no customization has been deployed at various such types of academic institutions.
It has a set of features that we can keep or remove based on what & how we want our solution to be.
In other words, with some features it can work for "Institute: A" & removing some others, it can work for "Institute: B" & like that.
Let's see how it works or how it can be the best fit for your institute.
For Pre-Primary Academies
Pre-Primary studies providers will not have many things to manage. For instance, these academies may not need to manage divisions, semesters, hostels or subject streams.
What they will need is to take attendance, mark progress in terms of kids' behaviours & understand and add something more, notify parents with grades & activities.
So there are many things we can remove & keep basic. Even staff members might not be higher in numbers.
So this solution can be implemented for Pre-Primary Academies & Play Groups if we configure it accordingly.
For Primary & Higher Secondary Schools
Schools can be much bigger in size & also in terms of the number of students & teachers.
Non-Teaching staff members should also be a part of the system. Since school has many compliances to be settled with & hence it might get us configuring our School Management Software with those features & functionalities.
Also, one school may be offering its course programs for various boards. These assessment boards may have different course structures & examination patterns & so the solution should be capable enough to manage it all.
Our Educational Institute Management System is highly flexible to be implemented at schools & offers all the necessary operations to perform just with one-single software.
For Colleges
Schools have assessment boards & colleges would have universities & departmental affiliations.
To have this software implemented at a college we may need to have so many things in places like departments, hostels & meals, cantine, parking spaces and extracurricular activities where we may need to configure our software system in accordance with all these.
In short, it can be a College Management System with some extra essence of functionality & feature.
For Universities & Research Centers
The Educational Management System however talks about managing the complete process of an academic institution. Universities might not always be involved in offering direct education to their students but it has a mixture of academics & administration when it comes to managing it all together in a University Management Software.


Right from affiliations to the government & legal compliances university management has got to deal more with administration than to offer direct education.


However, some Research Institutions also have some strategic connection with universities or there might be a group of people who work on research with third-party funding.


So configuring this solution both with administration & educational capabilities it can be implemented to manage a complete cycle of operations at a university too.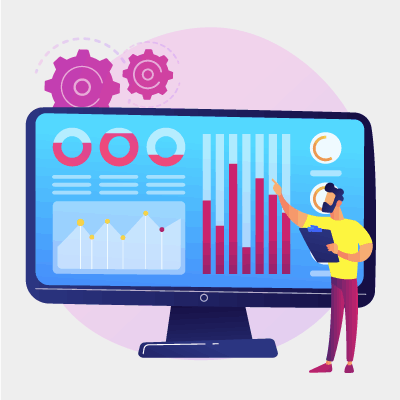 Dashboard
An interactive dashboard allows us to get all the important numbers on a single screen.
It allows the administration to keep an eye on the facts & quickly access the information they want.
This definitely means that it displays required information in a highly attractive manner.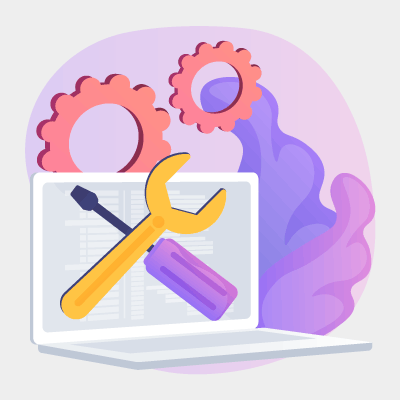 Data and System Configuration
This is in the form of one of the major menu items. Users can get our School Management System configured in the way they want.
This is something we need to get done with prior we starting using the software. We have School, Academic Years, Semesters and subjects in major to get configured.
These are going to be one-time configurations so that we can have them available while working with the core portion of our solution.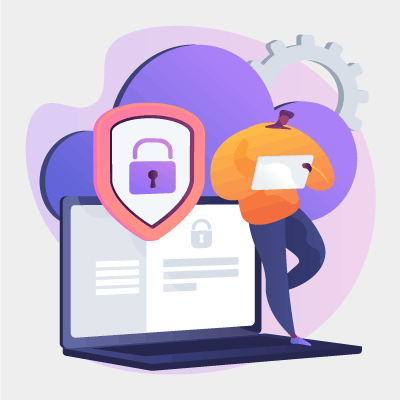 Student Registration and Admission
Allows us to quickly get a new student registered.
This School Software is an integrated solution that has minimal manual entries as commonly used data can be configured prior to starting to use the solution.
Course Program, Subjects, Years & Semesters, Grading system & many such things can be pre-configured for repetitive use while working with student registration.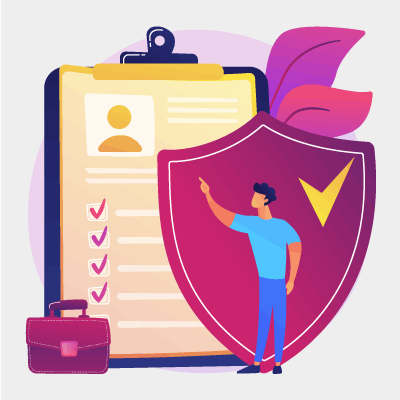 Attendance System
We have a separate section that allows us to perform various operations just for the attendance system.
This School Software allows us to get it integrated with any third party attendance taking system (i.e Biometrics). It has a detailed way of working with attendance by offering us facilities like Daily & Monthly Attendance of both Students and staff Members.
Another good part is its reporting capability when it comes to checking the attendance of anyone associated with the institution.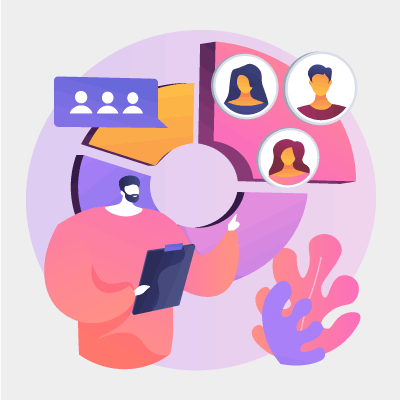 Managing Profiles
Our EduERP / Educational Institute Management System also allows us to properly record information of parents of students.
We have a segment where we are managing & working with the Student, Parent and teacher profiles.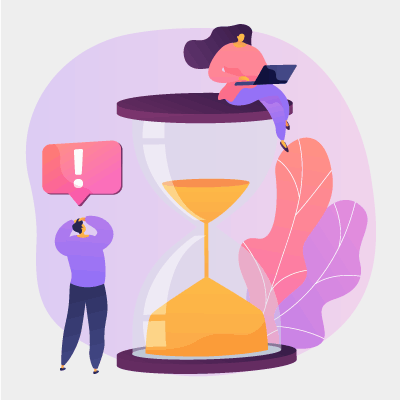 Reminders
Reminders are important when we want a particular student to get notified of something.
We have a strong & powerful functionality for reminders to our students so that we can make sure they are not missing out on anything important.